There are various types of carpet cleaning machines. If you are after something for your home or business, you should take the time to consider the options available to you. This is an investment and it can last a long time if you choose wisely now. And, your carpeting is yet another investment. Having a high-quality machine to help you do the job and do the cleaning very well makes all the difference. There are three main types of carpet cleaning machines. Here, we will discuss commercial, industrial, and home varieties.
First, there is the carpet cleaning machine for the home. Many homeowners know that they can and should purchase a carpet cleaning machine. But the question is which one? There are many on the market to choose from. The main difference in them has a lot to do with how well they work.
You will find lower-end models as well as high end. The best range, in our opinion, is the middle of the road where you get a good clean for a good dollar amount. Compare features and how the machine actually works. For most homes, you will find a steam cleaner is all you will need. Often they are equipped with brushes to help get into the carpet.
They will use water through a container and the use of chemicals is necessary. You can expect to pay about $200 to $500 for these carpet cleaning machines.
Let's move on to the industrial carpet cleaning machine, now. This type of carpet cleaning machine is much more durable and will take a beating and more before it breaks down. They are often used to deep clean. When you consider the traffic that these environments get, these machines need to be able to suck out quite a bit of debris, dirt, and grime.
The usually work by spraying a solution of hot water and chemicals onto the carpeting then suction it back off into a tank. They are easier to move and usually fairly easy to use. Because of their high suctioning power, these machines will cost you more. Most of the time they will cost between $1,000 to $2,500 dollars and are well worth the investment if you have carpet that will get tracked up in a work area.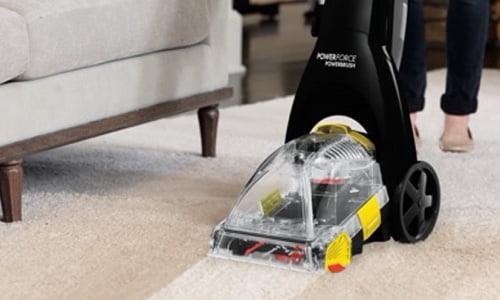 Lastly, there is a commercial carpet cleaning machine. These machines are mainly used for light traffic to clean traffic areas. Office buildings and doctor's offices are examples. Yes, the rugs get dirt but they are not really dirt. Often, these carpet cleaning machines are used regularly and they will need to be durable. It is important for you to invest in a good quality machine and the costs are somewhat the same as industrial machines ranging from $1000 to $2500.
To find and purchase the right carpet clean machine for your needs, make sure that you compare them. What features are offered? What makes one more costly than the next? To find the right one for your job, you will need to weigh in on what you plan to use it for, what quality you need as well as your budget needs. The right carpet cleaning machine will keep your carpets looking clean, but more importantly; it will keep them healthy and long lasting as well.